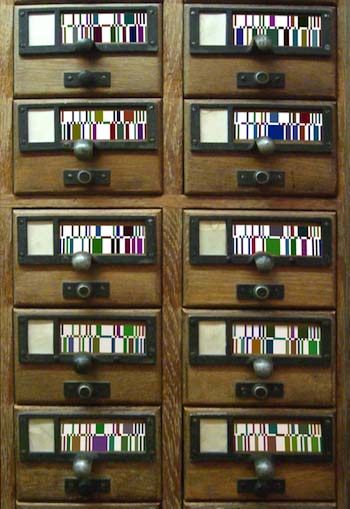 Carol Padberg & Andy Deck : Augmented/Obstructed
at Sterling Memorial Library
Step outside the walls of Artspace as the Library Science exhibition extends into the beautiful, strange, and fascinating libraries of New Haven, where local artists have been invited to create site-specific work that engages library users in new ways.

In conjunction with the exhibition at Artspace, Connecticut artists were invited to submit proposals for research residencies towards creating site and situation-specific projects at local libraries. Selected artists are: Colin Burke (The Whitney Library of the New Haven Museum), Heather Lawless (The New Haven Free Public Library), Andy Deck & Carol Padberg (Sterling Memorial Library at Yale University), and Tyler Starr (Robert B. Haas Family Arts Library at Yale). In addition, an exhibition at The Institute Library, timed to open with Library Science, will feature a series of new library-based portraits made by Meredith Miller and Rob Rocke. All participating institutions are in walking distance from the gallery.

Finally: Publication Studio, a "maker and destroyer of books," will set up shop at 196 College Street in New Haven for a week-long residency, Nov. 14-19. Daily demos, lectures, refreshments, and a book-binding extravaganza!