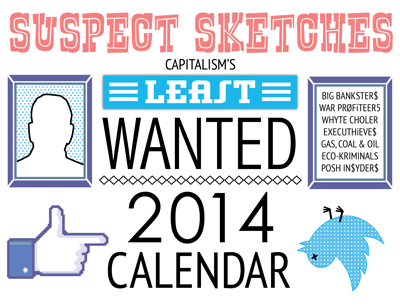 Suspect Sketches
Capitalism's Least Wanted 2014 Calendar
Which people pose the greatest threat to society, freedom, and the pursuit of happiness? With "stop and frisk" policing in decline how will the prison industry maximize its capacity? Occupy a radical thought: it may be time to abandon the usual suspects. This colorful calendar transforms the police sketch genre to target an unseen menace — the big, big people, banksters, execu-thieves, and sociopathic leaders who are often perceived to be "too big to jail." Finally a calendar that culture jams its way into the conventions of criminography and re-imagines the contemporary criminal! Purchasing this pictorial blessing is remarkably inexpensive. But since displaying it is practically a civic duty, you can even download it and print it yourself for free.
Since 1979, Andy Deck has produced calendars annually. These limited edition publications come signed by the artist, in color, saddle stitched (stapled) using premium 11x17" partially recycled paper.


Learn to spot criminals from across the room with this 2014 calendar:

• Order now for immediate delivery.

Don't be victimized by the competition.

• Print the free PDF version.
— Andy Deck